What we do.
We bring buildings and spaces to life, giving them an individual, distinctive style and creating a unique atmosphere. From the initial design right through to implementation, we will be delighted to carry out the complete project management, the design and detailed planning, and coordinate processes and tradespeople on your behalf.
Restaurant
Hotel
Coffee shop
Bistro
Bar
Conference rooms
Executive Floor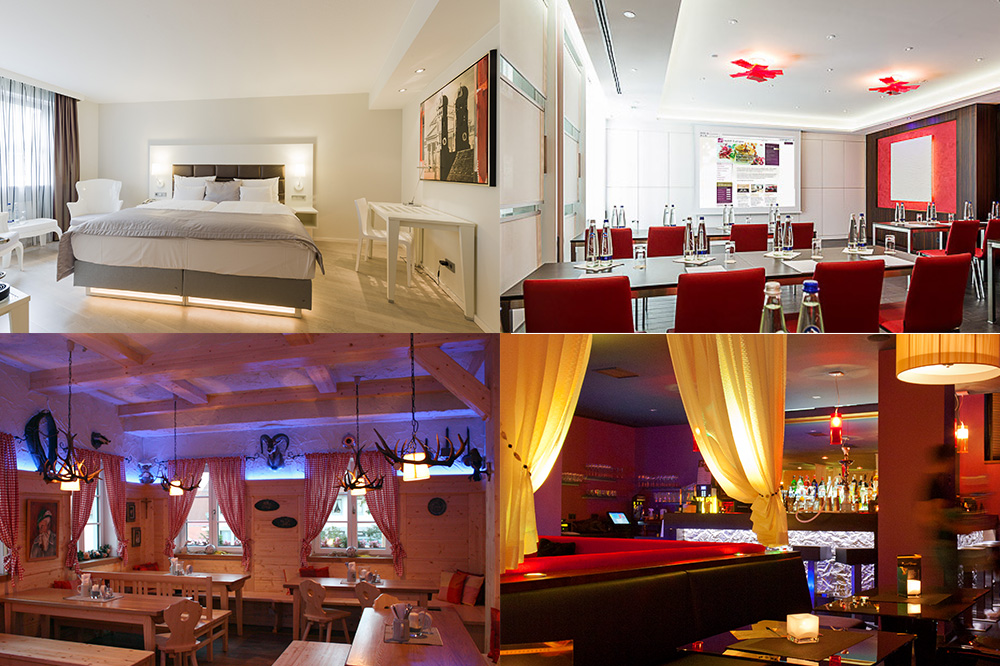 A passion for detail
At behir interior&design you'll find furniture and home accessories from carefully selected brands. We place just as much importance on the selection of materials and colours. With our exceptional flair and passion for detail we will help you choose the perfect design - surfaces, different types of wood, fabrics, patterns and colours all have their very own character. Being able to recognise these qualities and combine them accordingly with hand-picked materials demands exceptional flair and a great deal of expertise.

As we select our manufacturers on the basis of high quality criteria, we can guarantee that you will be able to enjoy your choice of furniture and home accessories for a long time to come.
Counters
Seating
Room facilities
Reception
Wellness
3D Examples
We bring designs to life with the help of photorealistic architectural visualisations. We can also make your plans tangible and give clarity to your ideas through the use of 3D renderings. On the basis of our many years of experience in the field of 3D visualisation, we know how to bring a design to life through light refraction, lighting and reflection.
How we work
From planning right through to implementation. Keeping you informed every step of the way.
Step 1 - Our personal discussion:
in our initial discussion, which is free of charge, you start by telling us your ideas and plans, and what you expect from your new room concepts. This personal exchange of ideas enables you to benefit from the very start from our expertise and our many years of experience.

Together we will discuss the fundamental details, which services you can expect us to provide and what budget you envisage. We will then inform you how behir interior+design works on all levels from design, interior architecture and planning, right through to implementation.
Step 2 - Laying the foundations.
Together we will view your property and in a detailed discussion establish the specific profile of requirements. Which areas are to be used, which design you prefer, which materials and products you envisage and what budget is necessary to achieve this. At the end of the discussion we will have collected all the information required to develop an individual design concept for you.
Step 3: From the ideas to the design
Based on the information we have collected, we will create a specific design concept from all the ideas and requirements. Using the initial drawings, we will provide you with a variety of design proposals. This preliminary work provides you with the opportunity to give us your feedback at an early stage and also to collaborate with us to get an idea of materials, material collages and patterns.
Step 4 - Good to go
Following approval, we will refine the detailed plans, taking your ideas into consideration at all times, and present selected materials and products. These can be fabrics, colours, tiles and wall surfaces, right through to furniture designs. Following the final selection of all details, we will complete the design plans.
Step 5 - In black and white.
Once you have given us your approval on the design plans, we will undertake detailed calculations and project planning. Here, we will firstly consult with all relevant suppliers and businesses, and discuss the specified requirements. You will not only receive a bespoke solution proposal from us, individually tailored to your requirements, but also a clearly comprehensible, well-structured and, above all, transparent quotation.
Step 6 - Work begins.
When you have placed the order with us respectively the firms carrying out the work, we will immediately get started. We will discuss all important details with the trades and will therefore be the interface between the firms carrying out the work and you. An additional benefit for you is our in-depth knowledge of the processes involved - we know exactly what should take place in the process chain and, most importantly, when this should take place.
Step 7 - A very special moment.
During the construction phase, we will regularly consult with the tradespeople with regard to the latest status, clarify queries and discuss unforeseen challenges. We will of course maintain a continuous dialogue with you and provide you with an overview of the project status, potential changes and the corresponding cost situation. Take a look at our work and we will demonstrate transparency, right through to the costs - always with the aim in mind of guaranteeing you that very special moment - the completion of your project.